X Bread Stick is a former Minecraft Helper. He helped with the Creeper Coaster. He appeared in Episodes 20-50 and some in the 70s and 80s.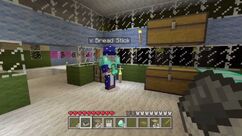 Bread Stick is Scottish.
With Ank55,CaptainSparkelz, and Epic Big C, he built the Creeper Coaster.
He is a minor helper in Stampy's Lovely World.