1. Clock Tower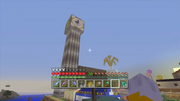 This is on the very top of Stampy's Top 10 Buildings in His Lovely World. It is very pretty, very detailed and very exquisite. I also like the Clock Shop and the Tea Time Shop inside the building.
2. Telly Box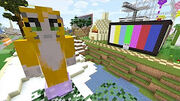 This is where the TV Show is shooted. The reason I like this build is because of the exterior of the building, which is a telly box, and I think it's pretty cool to have a telly box in your world. 
3. Fizzy Fun
I love the disco floor Stampy made in this party place. I also like the Elephant Face DJ Booth, and the cool banners as well! I like the overall idea of this build, I think it's so much fun building this!