Happy Holidays!
From the Stampy Wiki Team to yours, have a Merry Christmas! As Stampy Cat always says, "May your cakes be tasty!"
Who is Stampy?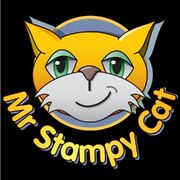 Joseph Garrett, also known on the internet as Stampylongnose or simply Stampy Cat, is a Gamer and online personality who makes videos appropriate for all ages. Because of his family-friendly channel, he has gained over 8 million subscribers, been featured on YouTube Kids, and was once featured as the 3rd most popular Channels. He also created two books, and has been involved with interviews, guest appearances and voice acting in video games.
Rules
Note: This wiki is meant to include articles for all things Stampy. Stampy bashers and haters will NOT be tolerated.

One rule to remember is Stampy is not here in this wiki. All your questions to him must be put on Facebook and Twitter.

Wanna know more the do's and dont's rules here in Stampy's Lovely Wiki? Wanna know how to be or not to be blocked? GO HERE!
Staff

4J Studios (Founder)

Main Helpers (Bureaucrats)

Minecraft Helpers (Administrators)

-

Let's Talk Moderators (Discussion Moderators)

Swear Chest-ers (Chat Moderators)

-

Funland Directors (Rollbacks)

-

Inactive staff members appear in italics. Staff information and more info on site administration here.
Pawtastic News!
January 2020: Important Events
Don't forget to add or improve our pages for the improvement of the Stampylongnose Wiki. We are happy on your contributions!
(Download our app off of Google Play!)
Pawtastic News

Stampy is making a comeback to Minecraft! Stay tuned for the newest Lovely World episode, "Mirror World", which will premiere on 19th October!
Congratulations to Joseph Garrett and Bethany Bates on your marriage! Lots of love from the Stampy Wiki Family!
Stampy creates his first course on Super Mario Maker 2! The code for the course is: 0TH-J0N-97G

---
Wiki News

Attention to all: Please be informed that we have a fanon wiki, so you can create your own fan-made stuff related to Stampy. This is also to ensure that no fan-made content will be made in this wiki. Go here to access our fanon wiki.
Staff Application UPDATE: We are in need of two moderators, an additional administrator, and an additional rollback. (as of 10th Nov 2017) If you wish to apply, check this page.
Fanon Wiki

Access this wiki here to view stuff made by fans and to create your own!
A Friendly Reminder
Hello all. Before you start, please keep in mind that Stampy Cat does not view this wiki. I know that parents are keen to show off their kids' creations to Stampy Cat. This is not the place to do it. Better places to communicate to Stampy are his Twitter, Facebook, or Instagram. Again, don't try to contact Stampy through this wiki.

If you've got any questions, don't hesitate to contact me.
-Wiki Team
Social
Create blog post
Blogs
One day, Gregory was a wild wolf that Stampy tamed offscreen. He was then having fun with Stampy. H…

Read more >

I'm not quite sure if anyone is aware of this, but a couple days ago, somebody completely got rid o…

Read more >

Okay so a few years ago I made a playlist with all of the episode of Lovely World. This was back be…

Read more >
See more >
For our older Twitter handle, check this link. For our Facebook handle (currently inactive), check this link.
Community content is available under
CC-BY-SA
unless otherwise noted.