Welcome
Welcome to Stampylongnose Wiki
A collaborative community for all things about Stampy where anyone, including you, can edit!
Beware: This wiki contains spoilers.
This wiki has currently over 1,768 articles since August 2013.
Access everything Stampy here!

Channels

Social Media

Merchandise
Who is Stampy?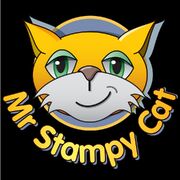 Joseph Garrett, also known on the internet as Stampylongnose or simply Stampy Cat, is a gamer, author, voice actor and online personality who makes Let's Play videos, especially in the popular sandbox video game Minecraft, that is appropriate for all ages. Because of his family-friendly channel, he has gained over 9 million subscribers, been featured on YouTube Kids, and was once featured as one of the most popular YouTube channels. He also created two books, and has been involved with interviews, guest appearances and voice acting in video games.
Policy
Note: This wiki is meant to include articles for all things Stampy. Stampy bashers and haters will NOT be tolerated.

One rule to remember is Stampy is not here in this wiki. All your questions to him must be put on Facebook and Twitter.

Wanna know more the do's and dont's rules here in Stampy's Lovely Wiki? Wanna know how to be or not to be blocked? GO HERE!
Staff Notes
Our #Stampy10Mil celebration has ended after Stampy has done the livestream. In case you missed it, you can watch it on VOD here!
---
Hello all. Before you start, please keep in mind that Stampy Cat does not view this wiki. I know that parents are keen to show off their kids' creations to Stampy Cat. This is not the place to do it. Better places to communicate to Stampy are his Twitter, Facebook, or Instagram. Again, don't try to contact Stampy through this wiki.
Also, please be informed that we have a fanon wiki, so you can create your own fan-made stuff related to Stampy. This is also to ensure that no fan-made content will be made in this wiki. Go here to access our fanon wiki.
If you've got any questions, don't hesitate to contact us.
---
I'm currently in the process of revising the infoboxes so that it would be suitable for both PC and mobile users who visit the wiki. With this, I'm also updating the Tips and Tricks page for any new and revised infoboxes and how to use them. Here are some of the new infoboxes that I already made:
All the Lovely World episodes navboxes (Episodes, Episodes2, Episodes3, SLWEpisodes4/5/6/7) have now been moved into a unified navbox. Please use Template:SLWEpisodes for this.
Thank you and stay safe!
-RatchetInTheDino
Pawtastic News!
February 2021: Important Events Don't forget to add or improve our pages for the improvement of the Stampylongnose Wiki. We are happy on your helpful contributions!
*
Stampy has reached 10 MILLION SUBSCRIBERS on his main channel!
*
Stampy's first video in 2021, the 56th episode of Space Den, is now uploaded to his channel! Check it out here.
Fanon Wiki
Access this wiki here to view stuff made by fans and to create your own!
Social
Blogs
Hi guys. I was wondering if anyone could tell me if stampy has a PO box.

I have been planning to make Episode 9 of Dog roleplay for sometime.





Here's a picture of the Episod…


Because I wanted to be a bit like Alpha Ranger.

See more >

For our older Twitter handle, check this link. For our Facebook handle (currently inactive), check this link.
Community content is available under
CC-BY-SA
unless otherwise noted.