"Mittens and Duncan do normally like to go around together."
— Stampy, after taking Duncan and Mittens with him.
Pushy Pirates is the 208th episode inside of Stampy's Lovely World.
Stampy and Lee add some reddstone to fix their mini-game, Gold Grab.
The episode starts when Stampy greets his audience as always in his everyday morning routine intro. He goes to his balcony to feature his lovely world's surroundings. He went back inside and saw L for Lee x, but did not got out of the painting, instead he appeared directly into his face and did the normal appearance of Lee. Lee then gives Stampy a carrot cake for his healthy breakfast.
Stampy manages to eat almost all the cake, leaving a slice of cake for Lee and the carrot. Stampy goes out of his balcony again and decides to play the Fishing Rod Game. He explains first the mechanics of the mechanics of it. They then played the Fishing Rod Game. Neither of them managed to land their fishing rods on the pressure plates.
After that, Stampy went to the Love Garden and added Reece Turner. Stampy shows what he have done which is Reece with a Stampy-made balloon doll and a Stampy logo face paints on his forehead. It was also shown with a Stampy Custom-Made T-Shirt with a text saying, "I love Stampy. :D". He appreciates his own work, and welcomes to his own Love Garden. After that, he did not want to bring a dog but he changes his, and instead he picked Mittens to join him and on his way to the Funland. But before he could climb up to the Kitty Cat Condo, he found a dog that was Duncan on the leaves of the branch.
He decides to go up to him and fetch him carefully by using dirt blocks to go towards to Duncan. He goes back down slowly and picks up Mittens also inside the condo and left. Stampy goes to the balcony of the condo and jumps down to the lake beside it. As they go along Downtown, Stampy notices that he has mail as it is written at the sign. He and Lee then goes inside of the Flap Postal Service. He checks what has got and finds a pumpkin pie and a letter. He checks the letter and reads it. The content of the letter is:
To Stampy,
Thank you for building me my hangout. You need to come back soon for another party.
Harrison
Stampy then puts his letter and pumpkin pie in his own mailbox.
They all went to Stampy's Funland to finish the Gold Grab game. He built the interior of it. He built some torches, wooden blocks for it to be used as a floor. While he contructs the floor with spruce wooden blocks, he eats the carrots due to his hunger bar decreasing. After that, he puts rails and power rails in addition. He also builds some wooden blocks for the rails to be put and support on. While Stampy was discussing the game, the viewers could spot a hot air balloon flying in the sky where Hit the Target was. It had also appeared in the previous episode.
Now Stampy and Lee put the ceiling to put redstone on and made the tracks up to the upper floor, but Stampy had problems in connecting them together for awhile. It caused him to lower the ceiling due to the problem. They had a tester go and it went well, but then Stampy then improved it after the video. He then says bye and ends the episode.
During the video you can see a Hot Air Balloon in which Hit the Target could be found. Keep an eye out for it.
This was its second appearance, the first being in the Treasure Chest Episode.
This is one of the episodes where Duncan and Mittens are brought together again.
This is the first time where a dog (Duncan) is stuck on the leaves of the branch.
The carrot cake was again featured as Stampy's breakfast.
When the letter was given to Stampy, it hints that in the future episode, Harrison will host a party for all of them.
This is also one of the episode where it has a continuity of the previous episode as continuation of the contruction.
Stampy
L for Lee x
Harrison (Letter)
Hit the Target (Hidden Cameo)
Stampy's House
Love Garden
Kitty Cat Condo
Downtown
Flap Postal Service
Funland
Gold Grab
People Added to the Love Garden
[
edit
|
edit source
]
Minecraft Xbox- Pushy Pirates [208]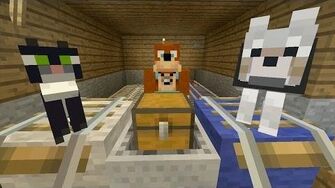 Community content is available under
CC-BY-SA
unless otherwise noted.