Lovely World Tribute 
is the 200th episode in
Stampy's Lovely World
. In this episode, he travels through his world by his
Hot Air Balloon
.
After Stampy introduces himself, Lee comes from his painting. Stampy and Lee play Egg Throwing Challenge, Lee attempt to destroy the painting by using 360 but missed but Stampy got it. After that, they make a run for the Love Garden which he added the singing contest winner, Francis J. He said Francis J couldn't play Minecraft on Xbox, that's why he wasn't on the episode. Stampy and Lee ran to his first home which he tells everything that his first home is important even it is a cave. They ran for the Hot Air Balloon which is created by them on the previous episode. Then Lee leaves Stampy, making Stampy saying "Good bye!" to Lee. Stampy travels his world for 8 minutes and he lands after that. While Stampy was traveling in his Lovely World, he played the song that was made by Francis J. He did not said bye, instead he put it on a thank you letter shown before the video officially ends.
The song Francis J. sang, "In My Lovely World" is played during Stampy travels his world with his Hot Air Balloon.
Stampy wears the shoes Santa gave him in this episode.
The Video has 9.6M views.
Minecraft Xbox- Lovely Tribute [200]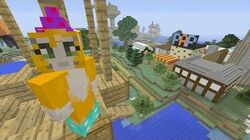 Community content is available under
CC-BY-SA
unless otherwise noted.