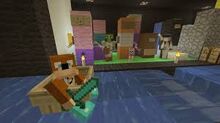 It's a Lovely World After All is a ride in Stampy's Funland. This was built in 3 episodes.
Appearance
Edit
The whole ride is set inside a large sand and sandstone building, with many details carved into the side. It is a loose recreation of a ride in a 'Disneyland' amusement park called 'It's a Small World '. The inside is a winding water track, but underneath the ground are many redstone noteblocks set to play a tune, credit of 'WeeWeeGaming'.
This is a ride, in which the rider gets in a boat and is automatically pushed around the track by boosters, however the effect is minimal so the boat does not speed up by a huge amount. On the side of the tracks are lots of different things to see, all somehow relating to Stampy and his 'Lovely World' videos (hence, It's a lovely world after all). Whilst looking at the many ornaments, a tune will play via the carefully set up noteblocks underneath the ground. The tune is almost identical to the one played at the real Disneyland ride, which is the phrase 'It's a Small World After All' played over and over again in a lively melody.
The tune was made by WeeWeeGaming.
The name of the game may be a reference to the song and/or Disneyland ride It's a Small World
This ride no longer works due to the boat update

Minecraft Xbox- Boat Ride [138]
Minecraft Xbox- Recreating Memories [139]
Minecraft Xbox- Silly Statues [140]
Community content is available under
CC-BY-SA
unless otherwise noted.