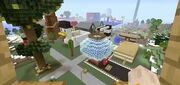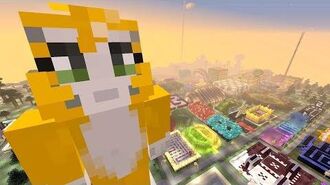 Stampy's Funland (known as: Lovely World's Theme Park) is the largest area built in Stampy's Lovely World. It has games, rides and attractions (and dog graves). It was toured in the 301st video, "Everything Else", 601st episode, "Funland Tour". 
Appearance
Edit
Stampy's Funland is a plot of land where rides, attractions and crazy games are located and where Stampy and his friends play all day long. Building minigames, rides and attractions takes 1-3 days then they have a tester go to see if the game works. Then in the next video, Stampy and his 3 current helpers will have a tournament to see who will be the champion. From the outside is a large sign that says "Stampys Funland" that was built in Episode 51- "A Bad Sign" and a colorful tunnel which houses the former Minecart Track. Stampy has a series called "Stampy's Funland", in which he only plays minigames.
It can be accessed from Stampy's House via either the Tree Train, that connects from his house to the Funland easily, or the Teleporter inside the Secret Base, which also has few Teleporters on the Funland. Stampy also wished few times to extend the Tree Train further inside the Funland, but he hasn't done so, probably because now the teleporters do what he wanted the extended tree train to do. It is also accessible by Pigs, Horses, Donkeys, Mules, Llamas, and Walking.
Before Stampy's Funland, it was originally a large frozen lake in which Stampy, with the help of his friends, covered with grass to make land.
The first game that existed is the Golf Course, where his dog Gregory Jr. lives. Many days later he built the sign of the Funland and since then he added the games, rides and attractions that exist today. It is also hinted that after Stampy finishes the Funland which may be in 5 years or so he will build walls around it to protect it. He has also talked about installing a monorail system, similar to the one in Disneyland and Walt Disney World.
Rides, Games and Attractions
Edit
Here is a list of notable rides, games and attractions.
Top 10's
Edit
Stampy's Top 10 Mini-Games - 2016
Edit
Stampy's Top 10 Broken Mini-games - 2017
Edit
Brief Mention
Edit
Stampy's Top 10 Biggest Mini-games - 2017
Edit
Top 10 Best Looking Mini-Games in Stampy's Funland - 2017
Edit
Other things and places
Edit
Main Article: Stampy's Funland (series)
The Funland is the main setting of the spin-off series of Stampy's Lovely World where Stampy and his guests play the existing mini-games throughout the episodes.
The games he played are:
Temple Trap
Golf Course
Tool Trade
Water Rush
Gold Grab
Maze Master
Shear Fun
Bouncy Boats
Turbo Types
Castle Crumble
Douse the House
All Rides
Mole Hole
Doggy Hockey
Cart Count
Jump in
Dodge 'N' Drop
Flower Power
Chicken Trail
Cat and Mice
Brick Breaker
Investigator
Risk It
Flop
Pig Pong
Bury Berry
Rule The Duel
Fish Me A Dish
Pirate Plunder
Fire and Water
Slime Time
Snow Throw
Pretty Duck Fling
Fairy Lights
Drench
Temple Pit
Discussions about Funland
Edit
Community content is available under
CC-BY-SA
unless otherwise noted.