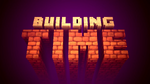 "It's Building Time!"
Barnaby says, "This plot needs more CONTENT, so add every detail in the episode now!"

Please expand the article as well as you can!
Friends and Foes is the 355th episode inside of Stampy's lovely world.
Synopsis
Edit
Stampy battles a wither that was spawned in by a former friend...
Stampy starts the video as he normally does, and announces that he will be joined by Veeva Dash. However, she doesn't enter the room. Stampy isn't bothered by this and is sure she'll show up later in the video. He tries his cake, which sadly tastes like soggy newspaper. He then heads over to the Love Garden and adds Finn for making a Stampy and Squid snow globe, then proceeds to the doghouse and chooses Luna to join him for the video. He then starts building his new Vet.
When it's only partially built, he sees Veeva come. She seems to want him to follow her, so he does. She leads him to Hit the Target's lair where he realizes the two of them are working together! HTT and Veeva spawn in the Wither and escape!
Stampy spends a long time battling the Wither and is not making much progress, when he notices another player come. Afraid that he might be working for HTT too, Stampy tries to get away, but realizes that the new player is helping him fight the Wither! Together, they manage to defeat the Wither. They head to the doghouse to make sure all the dogs are safe and, luckily, they are. The player puts down a sign, telling Stampy that his name is William Beaver.
Before the episode ends, William eats the last slice of cake from Sleepy Stampy and falls asleep. Stampy ends the episode with his usual outro and leaves William to sleep.
This video is the first appearance of William Beaver.
In this video, it is revealed for the first time that Veeva is evil and working with Hit The Target.
Since this episode, her attitude started evil on Twitter, causing Stampy not to talk to her.
Minecraft Xbox - Friends and Foes [355]
Community content is available under
CC-BY-SA
unless otherwise noted.