Cat and Mice is a game in Stampy's Funland involving teamwork, strategy, speed, battles and cheese!
Cat & Mice consists of a large maze, containing 4 blocks of yellow wool (the 'cheese'). The game requires four players - two play as the 'mice' and two play as the 'cats'.
The mice's job is to try and collect all four pieces of cheese and get them out of the maze.
The cat's job is to try and stop the mice from doing this by killing them and collecting any cheese that they drop.
If a mouse exits the maze (either through one of the exits or is killed), he or she can no longer enter. When both mice exit the maze, the game is over.
The amount of 'cheese' that was successfully collected by the mice and brought outside of the maze is placed down at a 'cheese stand' (the random stand outside the mini-game) and counted up. The winner is the team of mice that manages to collect the most cheese.
Cat & Mice was built and played in the following episodes:
"Mouse Trap" [181] - 29th March 2014
"Mouse Maze" [182] - 2nd April 2014
"Cat And Mice" [183] - 5th April 2014
The players featured in the Cat & Mice "tournament" were Stampy, Lee, ChooChoo, Ash and Squid.
Stampy and Squid scored 1, the rest scored 0.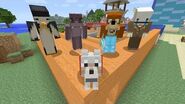 Community content is available under
CC-BY-SA
unless otherwise noted.