"Loves it!"
— AmyLee33, SalemsLady
Amy Lee
Name

Amy-Lee Hart

Nickname(s)

Amy

Alias

Amy Lee, amycutiepie, bubbachub (formerly)

General

Gender

Female

Username

Amy Lee33

YouTube

Channel(s)
Date Joined

5th June 2013

Status

Active

Social Media

Twitter
Facebook
Other

Amy-Lee Hart, more popularly known as AmyLee33 or simply Amy Lee, is a Female YouTuber, Gamer and Author. She is best known for collaborating with Stampy in his videos inside his Lovely World.
She joined YouTube around July 2013, and made her first YouTube channel. To properly launch the channel, she released her first ever video with Stampy in Stampy's Lovely World while playing games in the Funland.
In 2014, she made another YouTube channel where she releases vlogs. This is named Amy's World, formerly known as AmyLee33 two.
Association with Stampy
Edit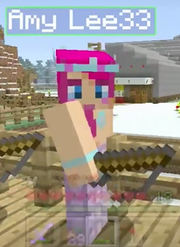 Amy has a strong association with Stampy, primarily for the Lovely World series. She has also appeared in the first season of Wonder Quest. Stampy has also appeared in her channel, with his notable appearances in Amy's first Let's Play video where they played mini-games inside the Funland, and in Amy's birthday video.
She is also known for starting a petition to protest Google and YouTube's decision of terminating Stampy's main channel in December 2013. It received over 6,000 signatures.
Lovely World
Edit
Amy helped Stampy build buildings and minigames in Stampy's Lovely World in some episodes. She used to have a room in Stampy's House, but Stampy gave it to Henry and Hilda after she lost a tournament on one of the games in the Funland. She also used to have a house in Stampy's Village, in which the basement is connected to Salem's, but was removed in Stampy's Recycling program as part of the expansion of his Town.
Her most notable contribution in the Lovely World are the Lovely Jubbley Love Love Petals (Roses). In the episode Lovely Jubbley, she planted the first rose at the Funland. The rose still stays there until now.
She has her own channel, currently with over 1 million subscribers. She uploads Let's Play videos on a variety of family-friendly video games including Minecraft. She also has two other channels: Amy's World, her side channel where she used to upload her vlogs and behind-the-scenes, and Just Amy, another side channel but currently with no content.
Other projects
Edit
She is also an author that has created three books that are currently available on Amazon.
"Lovely jubbly love love petals"
"Loves it forever!"
"Can you not even try?!"
"Googlies"
"Funsies of love!"
"I can't even!"
"Silly little gooseberry."
"I just can't even"
"Confuzzled"
"luv luv luv luv"
"Loves it!"
"I love your face!"
"You silly goose!"
"Miah! Don't be normal!"
Appearance
Edit
Amy's skin is a mermaid. She has pink hair with a blue and yellow tiara/headband. She has pink eyebrows and three shades of blue for iris. She has pink lips and cheeks. And she has aquamarine colored bracelets. While she has three shades of purple scales for her tail. And her pink hair at the back of her skin ends in a light blue hair tie. Her PC skin does not have the hair tie. As "Hermione Lee33", she wears dark grey dress with black witches hat and no hairband-like tiara. Shoes are black.
Biography
Edit
Gamer tag: Amy_Lee_33 on PC
Favourite colour: Pink
Nieces: Rachel, Holly and Livi
Sister in law: SalemsLady
Soul sister: Dayna Martin (IndigoRose33)
Her pet cat is named Poppy
Her gamertag used to be bubbachub5.
Community content is available under
CC-BY-SA
unless otherwise noted.